This is an oil holiday, so here's our Frying Tip:
The first bubbling/"boiling" you see is actually air moisture boiling off the surface of the oil. Wait a while longer for the oil to truly heat & boil. Food will absorb less oil this way. (Then do your paper-towel draining and patting business after).
Back to top ⤴
Not-Only-Potato Pancakes (Levivot)
Sizes on vegetables should run medium to large.
Substituting yams for potatoes is also a nice change (use small to medium).
Adding carrots is fairly common in Israeli latkes, and so is coarse grating.
Amounts on ingredients are approximate. You may end up adding more egg and flour, for example, as you see "how it goes", and then add pinches more of your seasonings.
***We like what these seasonings and herbs "do" in these latkes- so do our kids, relatives and friends. So that we have to make more than the amounts here, and usually fry in two pans. But you could consider the seasonings as all optional suggestions and go with only salt (we can't imagine that, but…).
We've also occasionally added some minced black olives into the whole thing.
These latkes freeze (in foil) and reheat well.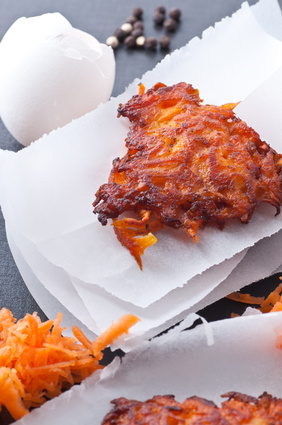 Ingredients
3 potatoes

3 carrots (thick ones are easier).

1 onion - peeled & placed in freezer for ~1/2 hour ahead of time to reduce tears :)

1/2 to 1 small container fresh mushrooms

1/2 cup or so of flour (any type is fine, we use whole wheat)

2 or so eggs, well-beaten

1 tablespoon finely grated lemon peel

1 tablespoon crumbled rosemary.

1 1/2 teaspoon celery seed

1 teaspoon dried parsley (or a few minced sprigs of fresh)

1 teaspoon thyme

1 teaspoon or more of salt (by taste)

1/4 to 1/2 teaspoon black pepper

1/4 teaspoon sage

Oil for frying
Directions
Peel vegetables and shred them on the coarse side of the grater. In terms of amount of potatoes, basically shred enough for about 2 cups or so. Let that sit a while to the side while taking care of the other veggies. Then really press down and drain your grated potatoes well before adding to the mix.

Mix everything together. Add the potatoes last (for maximum draining time).

Heat 1/2 inch of oil in skillet (in the manner suggested at top). We suggest a test batch, of course, so you can make adjustments as they suit you.

Drop tablespoon dollops in, flattening each out. Fry slowly at medium heat until a crispy golden brown (about 5 min. or so per side).

Serve with sour cream, jam, or homemade apple or other fruity sauce!
Back to top ⤴
Uncle Bernie's Traditional Latkes & Potato-Spinach Latkes
Because we always loved both. Bubbie [grandmother in Yiddish] held court like royalty in her home all afternoon and evening with a chaos of family and constantly more visitors. Our uncle would set up two big pots of batters and keep alternating batches. It was a heavenly latke factory lasting for hours. This recipe serves [only] twelve polite, not-as-hungry people who practice better moderation in their lives.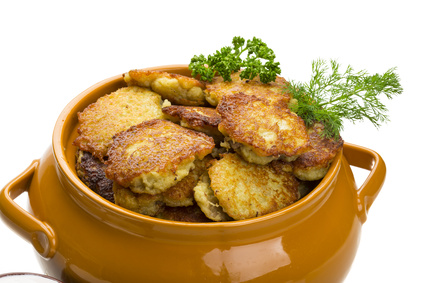 Ingredients
12 peeled potatoes

2 onions - peeled & placed in freezer for ~1/2 hour ahead of time to reduce tears :)

4 eggs, well-beaten

~1 cup of regular, all-purpose flour

1/2 teaspoon black pepper

1/2 teaspoon nutmeg

Salt to taste

Optional lemon zest
Spinach version
Replace 3 potatoes with 2 cups of steamed, chopped, well-drained spinach (or whatever proportion you prefer).
Directions
Into a bowl of very cold water, finely grate your potatoes. This will reduce the starch and sogginess of potatoes. Set aside a moment.

Either finely grate or mince your 2 onions. Hopefully the freezing will take a bit of sting out, but… So cry it out, we understand, mamaleh.

Once you've recomposed yourself, mix the onion and all other ingredients in a second bowl.

Drain the potatoes, being sure to really press out all liquid. Same goes for spinach if making that kind. Add to your big mix and stir well.

Heat 1/2 inch of oil in skillet (in the manner suggested at top). We suggest a test batch,of course, so you can make adjustments as they suit you.

Drop tablespoon dollops in, flattening each out. Fry slowly at medium heat until a crispy golden brown (about 5 min. or so per side).

Serve with sour cream, jam, or homemade apple or other fruity sauce!

If you want to fritter some time on more latke-type options, try our fried leek fritters here (from the Sefardic side of the family): http://www.learnhebrewpod.com/explore/jewish-holidays/rosh-hashana/recipes#chapter-3
Back to top ⤴
Apple Sauce & Other Fruity Notions
Homemade apple and other fruit sauces are easy and deliciously worth it- basically it's a boiled-down compote that you either mash afterwards or used finer chopped ingredients.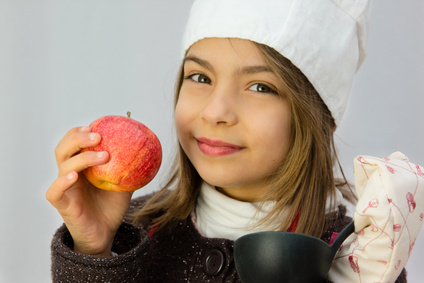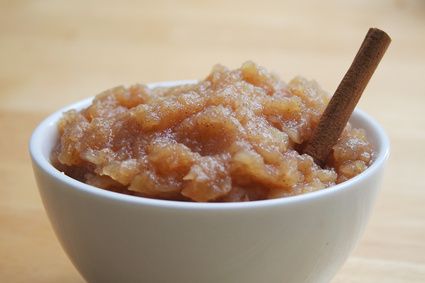 You can add to or replace part of this apple amount with pear, peach, plum, or apricot, etc. You can also add finely chopped walnuts and/or dried cranberries and the like. By the way, adding a little bit of ginger can also be nice.
(We'll just mention that we are also fond of raspberry compote. That just involves 20 ounces /500 grams frozen or fresh raspberries, a bit of water to cover bottom of pan, a tablespoon of lemon juice + about 1/2 cup or so of sugar, if you are really into the sweeter end…simmer and stir 'til happy, and stop tasting to check or you won't have any left for latkes).
Ingredients
4 peeled, Granny Smith apples (small-chopped pieces)

1 cup water

1 to 2 tablespoons lemon juice

1/2 cup brown sugar

1-2 teaspoons finely grated lemon peel

1/4 teaspoon nutmeg

1/4 teaspoon cinnamon

Optional additions &/or substitutes as explained above

Directions
In a saucepan, heat apples (and whatever other fruit as decided) and water to boiling.

Lower the heat, add everything else except sugar, and simmer for about 10 minutes or until apples are tender. Remember to stir once in a while

Add sugar, and reheat mixture to boiling. Stir and get it to the consistency you want. Now do make a shidduch (a matchmaking) with those latkes / levivot, asap.
Back to top ⤴
Sufganiyot / Doughnuts, Of Course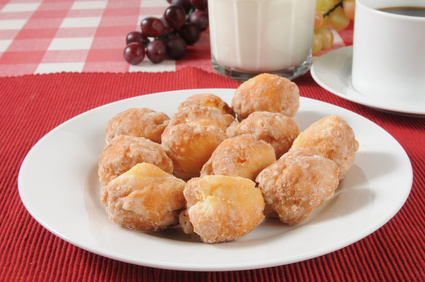 These make puff-balls, with glazing and mini-fill ideas included.
Ingredients
Dry :
2 cups flower

1/4 cup sugar

3 teaspoons baking powder

1 teaspoon salt

1 teaspoon nutmeg
Wet :
1/4 cup canola oil

3/4 cups milk

1 beaten egg
Oil for deep frying in a sauce pan
Topping : Roll your puffs in…
1/2 cup sugar plus 1 teaspoon cinnamon
Or - 1 cup powdered sugar blended with 1/3 cup boiling water as a dipping glaze,
to then be rolled in finely crushed nuts
Or - water-thinned honey with a bit of lemon juice added as a dipping glaze.
Or – powdered sugar.
&/Or – jam of choice to inject, see below. Chocolate or hazelnut spread or apple butter are also cool options.
Directions
Mix all dry ingredients. Slowly add in wet ingredients and beat to a smooth consistency.

Follow our oil tip at top of this section. You will need an oil depth of ~10cm./4" in your saucepan.

These are to be small puffs, so as to cook through.
Using a teaspoon, carefully drop dollops of batter into your hot oil, doing a batch of 5-6 at a time until they turn golden brown, which should take about 3 minutes total. (If you nonetheless want to go a bit larger, try a slightly larger dollop as a test piece that you check the inside for done-ness afterwards, so as to get a handle on the cooking mechanics and time.. likely about 4-ish minutes or 2 minutes per side if they require turning).

Drain on paper toweled plate. Roll in choice of topping.

Alternative- do the mini-jam biz: skewer a hole in your puff. Inject a bit of jam into that hole one of these ways: a) pastry sleeve and small nozzle. b) a small funnel, pushing the jam through it with a spoon. c) a syringe (like from liquid meds for kids)- if too small a hole for jam, use a spread instead &/or enlarge hole with knife or cut off the tip. d) save & use a spent toothpaste tube, ( you cut flat end open and clean well). We don't need gorgeous and perfect. Making them together and tasty fun is what counts.

Makes about 30 puffs. Nosh a few. Family then stops and runs around block or does some jumping jacks (helped by one's sugar level) to balance things out. Return and nosh on more.
Back to top ⤴
Zelebies & Boomwailas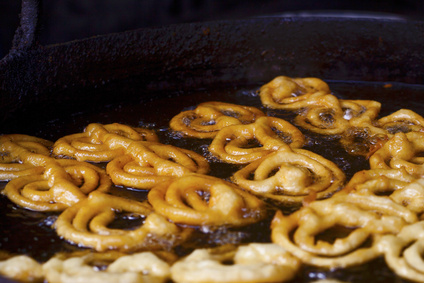 Simple but a bit hard to describe as it's done by feel. The Zelebi is a Persion contribution to Chanukah. You will need to have on hand- flour, water, oil, and honey.
Put some handfuls of flour in a bowl. Add some water and a little oil to make a kind of very soft dough, on the liquid side to be able to pour it, kind of like for a funnel-cake. And indeed, you pour it with a funnel - into a saucepan of boiling oil. Pour the batter into the pan in such a way that it makes a spiral, then shut the funnel off with your finger. Then start another one. Remove each zelebi when it reaches golden brown and transfer to a second pot with hot slightly watered-down honey, then remove to cool.
Here is a link to our Boomwailas, of Sefardic Spanish-Greek origin, which we introduced in our Passover packet. We eat them on Chanukah too :) . You just substitute the cup of matzoh meal with a cup of flour instead:
http://www.learnhebrewpod.com/explore/jewish-holidays/passover/recipes#chapter-11
Back to top ⤴
We're Bananas For Fried Bananas (chopstick + ice method included)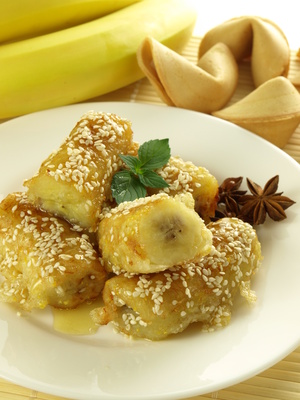 (learned first when waitressing in a Mandarin restaurant)
Ingredients
~5 bananas, fairly newly ripe (meaning not too soft already)

You can use a simple tempura mix
Or…


1 egg, beaten with a slight amount of water added

1 cup or so of water (approximate, see below)

1 cup all-purpose flour

2 teaspoons baking powder

1/4 teaspoon salt

Oil to deep-fry, depth of about 10 cm./4"

Saucepan

Either-
Powdered sugar
Or-
Slightly watered-down honey + sesame seeds
Or-
Pan glaze version (learned in the restaurant):
1/4 to 1/2 a stick of butter (~50-100 gm.)

~ 1/2 to 1 cup dark brown sugar

Sesame seeds

Skillet (no-stick is very preferable)

Chopsticks

Largish bowl of ice-water

(I've seen this version done flambé style also with rum or brandy - it tasted and looked great, but I haven't tried that feat).
Directions
Flour into mixing bowl, mix in egg, and start mixing in water.

You want to get to a tempura batter consistency, meaning it drips off of what you're mixing with (whisk, spoon, fork…) but is still able to stick to your banana (or whatever you'd want to try someday).

Depending on the size of your bananas, you can either just cut each one into about 5 chunks, or alternatively, slice first lengthwise and then widthwise into halves or thirds.

Dip into batter and then deep -fry in saucepan until golden and crisp (takes just a few minutes).

Drain on paper towels.

Top with powdered sugar,
Or - with thinned honey plus sprinkled sesame seeds,
OR - GET CHOPSTICKS OUT AND DO THIS:
*Note that folks like to watch this part (luckily, our table is near the stove):
Have your ice water bowl ready, and your chopsticks (presuming you're handy with them; I've never tried doing this any other way).

Melt the butter in the skillet on a medium heat.

Add enough brown sugar to make a nice candy glaze and sprinkle some sesame seeds into that. Once your sugar has melted and you've mixed this glaze-y candy-ish stuff, switch to lowest flame and…

MOVE FAST:

Add a couple pieces of your fried banana with your chopsticks.

Turn each piece over to cover the entire piece.

Take the first piece out and rush it straight into the ice water for a couple seconds to congeal the coating and then out and onto a plate. Longer in the water is not a good idea.

Repeat with the next piece, and so on. You may have to take the skillet off the burner about halfway through. You don't want the stuff getting too sticky thick either from too much heat or lack of. If you make a lot more bananas for a larger crowd, do a separate batch of the coating for half of them.
Back to top ⤴
Please A Healthy Salad Now?!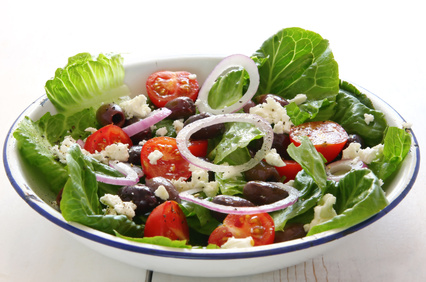 Luckily there are cheese and olive angles to the holiday.
The feta route…
Romaine lettuce (and assorted other lettuces and baby leaves if you like)

Sliced small cucumbers (Kirby-style, in America)

Cherry or "grape" tomatoes (or diced plum tomatoes)

Thin-sliced red onion

Crumbled feta cheese

Kalamata olives

A tablespoon or so of lemon juice (or about half a lemon)

6 tablespoons olive oil

2 tablespoons red wine vinegar

2 cloves of garlic run through a garlic press (or fine-minced)

Salt

Black pepper, preferably coarse-ground

~ teaspoon of ubiquitous herb mix (like Mrs. Dash-style) is nice.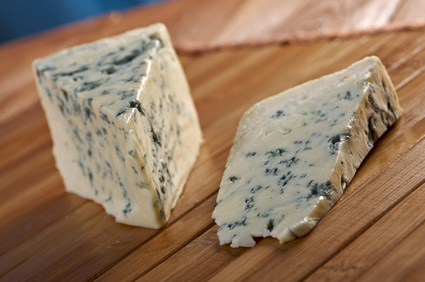 The blue cheese / Roquefort route…
Romaine, cukes, tomatoes, scallions, avocado, celery, radishes.

Also cauliflower, red cabbage, artichoke hearts, kolrabi and broccoli are nice.

Some spiral pasta goes well here too (whole wheat or tri-color kind).

Crumbled blue cheese - which happens to be very healthy (we prefer Dan-Blue; in fact we love it more than chocolate even).

Add olive oil, plus some lemon juice, salt and pepper for a heavenly salad combo.

Or to make it even more heavenly…
Consider
Adding
Olive Paste!
(see below)
Our "Marinated Artichokes & Other Veggies" go well with these salads.
The marinade also can be used as an alternative salad dressing (if one prefers , thinned down maybe just a little with some additional oil and lemon juice): http://www.learnhebrewpod.com/explore/jewish-holidays/sukkot/recipes#chapter-1
Back to top ⤴
More Olive & Cheese Thoughts!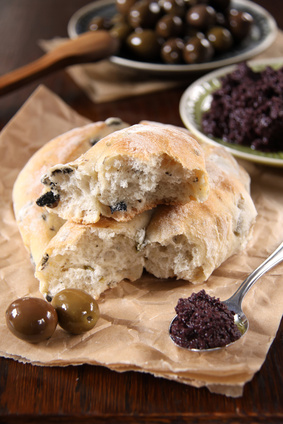 To make an olive paste…
For this we personally like black "Greek Olives" aka "maslinehs", the largish softer kind. (Kalamata olives are also fine). A mix of those and "Moroccan-style" (salt-cured shriveled black) is also great.
Pit at least a cup's worth of olives. Finely mince and mash or puree them.
1-2 cloves garlic- through the garlic press or finely minced.
3 tablespoons good olive oil
1 teaspoon oregano &/or other herbs you're partial to :) .
Preferably let the stuff sit in the fridge for 24 hours first so it can ruminate and "do its thing".
We're just starting you off with a simple basic paste here. There are all kinds of olive pastes out there these days - commercial versions and homemade recipes (yes, green olives are also cool, or a mix of both, though we aren't really talking about the green "Spanish" cocktail with pimento kind). Taste-test some if you can. Experiment around with what you may like in your own mix. Olive pastes are just super added to salad dressings, quick-pan dishes (like a condiment or spice you add to what you're cooking), with pastas, in dips, on crackers and breads… And olives are healthy!
Did you know???(The author was born in a U.S. city lacking olive trees so didn't)…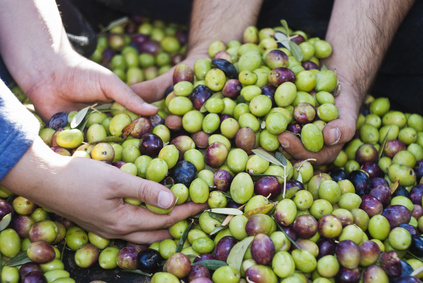 While there are many kinds of olives (and ditto the trees they grow on), there are not green olive trees and black olive trees- it's the same one tree. It's all a matter of when you pick 'em. Some will be milder than others, some meatier, all sizes, various shapes… But the general rule is that the green ones will be more bitter and require soaking and curing for longer than if you pick them later when turning darker (to bluish-black, or black or red, red-black…). You also mess with the timing – to use some of that bitter taste – in the kind of cured and/or marinated olive you want to come out of the process.
Curing olives can be done easily enough athome by soaking olives for weeks either in plain water or salt water, where you keep switching the water every few days to eventually get more of the bitter taste out. Or you can also stick them in a box mixed with a lot of coarse salt for a long time (those shriveled Moroccan kind are cured that way). There are a plethora of directions if you just put curing + olives into Google, including what to add when you get to the end of that curing stage, plus marinade and seasoning suggestions of course. If you live in Israel, this is very handy to know, as olive trees aren't just in groves, but yards and parks… they are literally falling in many streets and paths in the autumn through early winter, so worth taking advantage of.
More Cheese-related recipes you can use during Chanukah can be found over in our Sukkot package - such as cheese blintzes, cream-cheese cookies, and laban-cheese balls: http://www.learnhebrewpod.com/explore/jewish-holidays/shavuot/recipes#chapter-2
Avignon Jews would open new casks of wine after the Shabbat that falls on Chanukah. They'd then go around visiting each other with wine-tastings from the new vintage and toasts to the chag. So be inspired -now's a nice time for a little wine and cheese tasting get-together :) . Add a guitar and song-sheets of some lovely Chanukah songs and you're all set.
Back to top ⤴
It's Winter - Time For Lentil Soup (Sefardic style)
The amounts here on everything vary by preference. We can really only get you going in the right general direction. This version is a hearty vegetarian soup.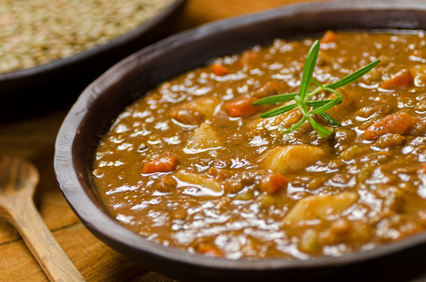 Ingredients
2 cups red lentils

4-6 cups water - to soak the lentils in a pot overnight

2 tablespoons olive oil

1 tablespoon flour

1 large potato

1 large onion (also good sautéed, like while dicing other veggies)

3-5 large stalks celery (darker the green the better), including the leaves

2 carrots

Parsley root & a nice sized celery root if you can get it.

A fistful/bunch of fresh parsley

A fistful/bunch of fresh dill

2-3 cloves garlic, crushed

1/2 to 1 tablespoon turmeric

1/2 tablespoon or so of nutmeg

1/2 tablespoon or so of coriander

1/2 tablespoon or so of cumin

Lemon juice to taste preference

Salt and pepper to taste

A

small

dash of cinnamon
Directions
Boil your water, shut fire, add lentils to pot. Soak lentils overnight. It's fine to use the soaking water in your soup.

Dice all your veggies.

Throw everything in your big soup pot. Bring to a boil, then lower heat and simmer covered for a couple hours, stirring occasionally and adding water if needed.
*Another Soup Suggestion:
French Onion Soup, crusty cheesy perfect for this chag and season, right?
These recipes caught our eye to start trying out:
http://www.thecurvycarrot.com/2010/08/07/henris-french-onion-soup/
http://www.bbcgoodfood.com/recipes/9079/the-ultimate-makeover-french-onion-soup
http://theinventivevegetarian.blogspot.co.il/2011/10/french-onion-soup5-years-in-making.html