Back to top ⤴
Spinach Pie aka Pashtidat Tered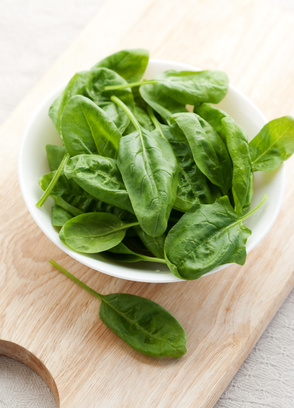 1 onion, chopped
canola oil for saute
2 cups cottage cheese 5% *
4 eggs
3 tablespoons whole wheat flour
3 teaspoons baking powder
2 cups of steamed chopped spinach (excess water squeezed out)
salt
pepper
garlic
parmesan cheese, grated
*Re: cheese- can substitute with:
1 c. cottage + either 1 c. ricotta or 1 c. farmer's cheese or 1 c. whole plain yogurt.
Saute onion until brown.
In large bowl, mix cottage cheese, eggs, flour, baking powder, spinach, cooled onions, and a little salt, pepper and garlic.
Pour mixture into a pie pan or ~8"/20cm. square pan.
Add parmesan cheese on top. Bake at 350 F./175 C. for about 1/2 hour, until knife comes out clean.
Add some salad on the side. Serves about 4-6 hungry, happy souls.
Back to top ⤴
Blintzes aka the Jewish Crepe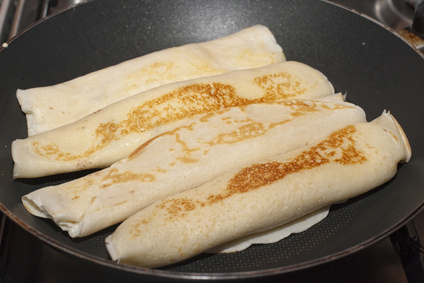 1 1/2 cups flour
1 tablespoon sugar
1/2 teaspoon baking powder
1/2 teaspoon salt
2 cups milk
2 eggs
1/2 teaspoon vanilla extract
2 tablespoons butter or canola oil
medium-sized skillet, ~8"/20 cm. diameter
In large bowl, mix dry ingredients. Then add in milk, eggs and vanilla. Mix well or with beater until batter is smooth.
Use a medium flame. With each blintz, first heat small amount of butter/oil in skillet. Pour about 1/4 cup of batter into pan and rotate it quickly to spread batter over entire bottom. Cook to a light brown, then turn over to brown second side.
Batter makes ~12 blintzes.
Filling Suggestions:
If your family is filling-variety-crazed, there is no shame in some store-bought cherry or blueberry pie-filling, etc. (You can always add some individuality to that filling too.) Also, any compote made out of whatever fruit you have around is a good tasty bet. Compote is simply chopped fresh or dried fruits simmered in some water+sugar or juice (orange or lemon work well), a bit of cornstarch to thicken the liquid, and whatever else you like to add, like some chopped nuts (e.g. pecans, walnuts, hazelnuts, or almonds), dried cranberries, vanilla or almond extract, cinnamon, ginger, nutmeg, and/or grated citrus peel… You spoon your filling a bit lengthwise onto the blintz, fold in the ends, and then roll up. Add some sour cream on top or whatever you like, and you're all set. Or make a simple topping sauce. A container of strawberries, some lemon juice and sugar or honey thrown in a blender and pureed is terrific and quick, for example. Any sautéed vegetable delight you like works well in a blintz/crepe too.
Cheese Filling
8 oz./230 g. Farmer's cheese
1 egg yolk
2 tablespoons sugar
1/2 teaspoon vanilla
Mix well in bowl.
Enough to fill about 12 blintzes (about a generous tablespoon of filling per blintz). Place blitzes in hot, buttered skillet with the seam side on the bottom and fry gently/sauté til golden brown.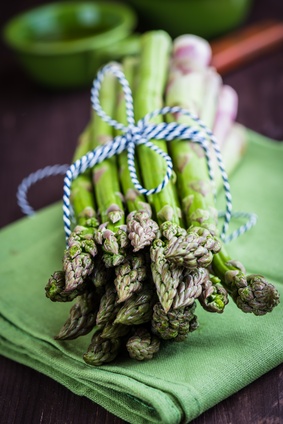 Asparagus Filling (or alternative veggies*)
1 1/2 lbs./700 g. fresh asparagus
3/8 c. butter
3/8 c. flour
~1/2 teaspoon salt (by taste preference)
dash of black pepper
3 c. milk
2 1/4 c. grated cheddar or similar cheese
Cook the asparagus, drain and roll some up in each blintz.
In a saucepan, melt butter and then add flour, salt, pepper.
Add in milk slowly and stir continually while it thickens. Voila- sauce.
Cover the bottom of a pyrex baking dish with part of sauce, add blintzes, spoon more sauce over that, add the grated cheese. Bake in oven for 25-30 min. at 400 F./200 C. Filling is enough for 12 blintzes, thus serving about 6.
5. *This same sauce and method works well with a mushroom-onion filling instead of asparagus (and whatever else you like)- simply use sautéed chopped mushrooms and onions with some rosemary, thyme and parsley and you can also mix in a little bit of the sauce to that filling.
Back to top ⤴
Sneaky Cream Cheese Cookies
Ok, we have no shame. This involves a box of cake mix, which you mess with and use for something else. But that also means it's faster and easier, and not everything need be "from scratch". When you haven't time(or confidence yet) to enter the cheesecake contests, but still want to play around with some cream cheese, try this alternative…
1 box of yellow cake mix
1/4 cup butter (or substitute)
8 oz. block of cream cheese
1 egg yolk
1/4 teaspoon vanilla extract
Preheat oven to 375 F./190 C.
Soften and cream your cream cheese and butter in a large bowl. Then work in the vanilla and egg yolk.
Start adding the

dry

cake mix into mixture a little at a time. Mix well.
Cover the batter and place in fridge for half an hour.
You don't need to grease the baking sheet :) . Just drop in small teaspoonfuls. Bake for about 8-10 min.
Back to top ⤴
Szechuan Cold Sesame Noodles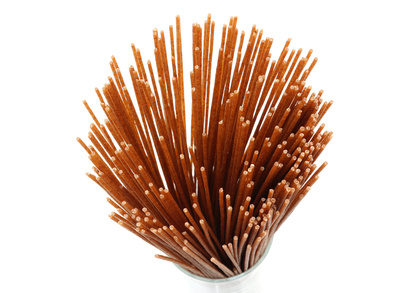 We couldn't resist throwing this one in, for those who aren't so big on eating much dairy but love tachini foods and pasta. This was a hit for the author at Shavuot pot-luck events for years on kibbutz. It goes great with salads. In Israel, thick sesame paste (like for making that thin techina dressing, etc.) is everywhere. Some like to eat it on a spoon just like that, straight out of the container, just like some Americans similarly nosh on peanut butter. This recipe makes a fair amount (since the family tends to demand that).
Sauce:
3 tablespoons sesame seed paste
3 tablespoons Chinese sesame seed oil
2 tablespoons canola oil
7 (or so) tablespoons soy sauce
1 tablespoon Chinese rice vinegar
1 teaspoon sugar
1/2 tsp. pepper
1/8-1/4 teaspoon hot chili pepper (powder)
1/2 tablespoon (or more) finely minced fresh ginger root
1/2 tablespoon (or more) finely minced garlic
1/4 to 1/2 cup crushed peanuts
A large bowl
Everything else:
1-2 cups fresh bean sprouts
3-5 scallions, sliced
a finely sliced stalk of celery is nice (optional)
1 package whole-wheat spaghettini, cooked (on the firm side, not the mushy side)
Mix your sauce first, pretty much adding things in the order given. The paste takes some shmooshing down and around with a good soup spoon, which works best while mixing it in with the oils you add next. Then further thinning by the non-oil liquids.
One item at a time, in the order given, mix in "everything else". This will stay well refridgerated in a sealed plastic container for a few days, by the way (if it ever lasts that long).
Back to top ⤴
Quick Refreshing Yogurt Drink
Take some regular plain yogurt. Dilute with cold water to taste – the drink generally works well when it's about 1/2 to 2/3 yogurt.
Add a bit of fresh chopped or dried nana /mint, plus a touch of salt.
Or…
Fruit it up with blender pureed strawberries, raspberries, blueberries, peaches, or apricots or….
Back to top ⤴
Laban Cheese Balls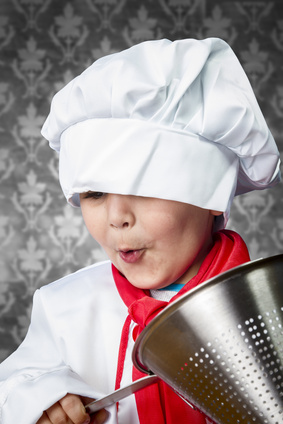 These might be served as a small dish among a plethora of small dishes- all sorts of salads, appetizers, dips for breads, etc. which together make up a category of foods and meal course known as 'mezze' in the Middle Eastern and Mediterranean part of the world. Or you just nosh your way through a whole delightful table spread of these as your meal.
This is fairly quick to make, not including the 1-2 days pause to drain moisture out it.
1 1/8 cup plain yogurt (go for a thicker type)
1 teaspoon salt
a glass storage jar
olive oil
Plus, before serving:
- coarse ground pepper
- & or dried (crushed) mint
- &/or paprika
Mix salt into yogurt.
Strain yogurt through a cheesecloth. Now just tie the cloth shut and let it hang over your sink for 1-2 days.
Put the laban in the fridge until it's dried to the point that you can roll it into little balls (like ping-pong size at most), which you will store in your jar, covered in olive oil. When ready to use, roll them in the pepper, mint or paprika.
Back to top ⤴
Cucumber Yogurt
1 1/4 cup plain yogurt
1 cucumber , chopped small (peeled or not as you prefer)
1 clove garlic, crushed/minced fine
1/2 to 1 teaspoon finely minced fresh nana / mint (or dried)
Salt (and black pepper if you like) to taste