Back to top ⤴
Fruit Smoothies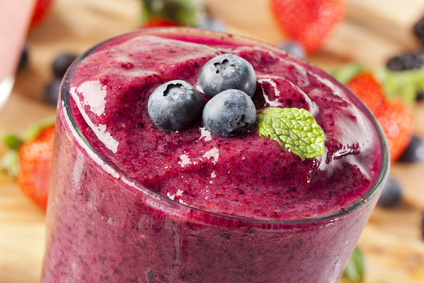 Directions
A very healthy meal-in-a-glass or "pick-me-up" snack. Children love these too, and it's so much better a habit than heading right away all the time for processed drinks, such as juice boxes and the like.
In a blender, mix ~1 cup yogurt with one cup of fresh fruit/s, such as blueberries, bananas and/or strawberries, kiwi, some pomegranate, or whatever else you enjoy, or maybe wish to use up the "last" of quickly. This will make a rather thick version. If you prefer a lighter drink, dilute somewhat- e.g. with about half a cup of water or milk, or add some ice into your blender. For a sweeter drink, try a touch of honey. If you like the kick of sweet/tart, also add a bit of lemon, lemon juice and/or pomegranate syrup or juice. These can also be made without the yogurt or milk of course by using ice in the blender for a straight fruit drink. The yogurt version is better when thinking in terms of nutritious mini-meal and breakfast-on-the-go.
Back to top ⤴
Apple Pear Crisp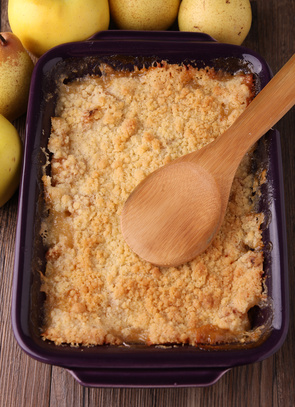 Ingredients
4 apples

2 pears

1 banana

1-2 tablespoons lemon juice

1 tablespoon orange juice

1 teaspoon grated lemon peel

1 cup flour (loose, not packed in)

1 cup granulated sugar (we like brown)

1 teaspoon baking powder

1/2 teaspoon cinnamon

1/2 teaspoon salt

1/4 teaspoon nutmeg

1 beaten egg

1/2 cup melted butter

*Crisps also work great with kiwi, berries, apricots, peaches, jarred cherries, etc. Sometimes we can't decide, or have a little bit of each fruit, so divide a large baking dish into quarters, with a different base fruit in each quarter.
**You can also substitute finely crumbled-up Special-K flakes for the flour, just for a nice change.
Directions
Preheat oven to 375 F./190 C. Use a very lightly greased 12" x 8" baking dish (or 9" square).

Peel and slice apples, pears and banana. Toss in a bowl with lemon juice, grated lemon peel and pomegranate syrup, and then spoon fruit mix into baking dish.

Mix together flour, sugar, salt, baking powder, cinnamon and nutmeg. Mix in your egg with a fork. This will be a pretty dry mixture, which you spoon-sprinkle all over the fruit. Then drizzle the melted butter over that flour mix.

Baking takes about 35 - 40 or so minutes, meaning golden brown (and check that fruit is tender).
Goes well served warm with vanilla or vanilla-pecan ice cream.
Back to top ⤴
Barley Vegetable Salad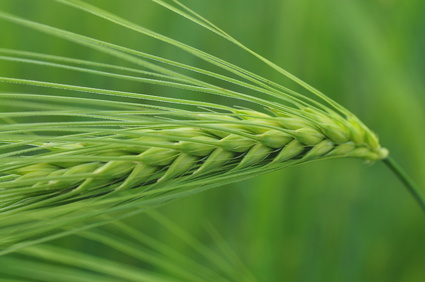 Barley is one of those seven Bible-praised seven species (wheat, barley, grape [wine], fig, pomegranate, and date [honey] ). Traditionally one tries to eat at least a bit of all seven on Tu B'Shvat. The others are a little easier, so let's help you with the barley goal.
Ingredients
1 2/3 cup vegetable broth

1/2 cup uncooked barley

3/4 cup sliced celery

3/4 cup sliced mushrooms (canned or lightly sautéed fresh)

1/2 cup sliced orange pepper (if unavailable, you can substitute with red)

1/2 cup sliced water chestnuts

1/3 cup carrot shreds

1/4 cup finely sliced scallions

1/2 tablespoon dill weed

1/2 teaspoon basil

Dressing:

Mix 3 tablespoons olive oil, 2 tablespoons red vinegar, 1/4 teaspoon salt, 1/8 teaspoon black pepper and one minced clove garlic.
Directions
After bringing broth to a boil, add in barley. Stir, lower heat, cover and simmer barley until tender (40-45 minutes). Drain off any remaining excess fluid.

Mix the rest of salad ingredients plus dressing in a large salad bowl and then fold in the barley. Makes about 4 1/2 cups (= 4 to 8 servings).
Back to top ⤴
Asparagus Pikanti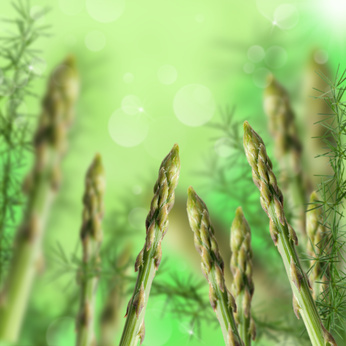 Ok, so we have a thing for veggies that look like mini-trees ;) . Substituting with broccoli if that's what's available is fine.
You can toast sesame seeds in a dry frying pan over medium heat, stirring or shaking them often. Continue this until they darken a bit and you pick up a sesame aroma.
"Pikanti" means a bit spicy. If you haven't chili paste handy, a dash of cayenne pepper or hot sauce will do as an okay substitute.
Ingredients
1/2 teaspoon toasted sesame seeds

1/4 teaspoon black pepper (fresh course ground is better)

2 tablespoons rice vinegar or white wine vinegar

1 tablespoon ketchup

1 tablespoon vegetable oil

1 tablespoon Chinese sesame oil

2 teaspoons soy sauce

1 or so teaspoon sugar

1 teaspoon chili paste

4 kg./2 lbs. asparagus or broccoli
Directions
Steam your green veg. If using broccoli, cutting into slices on the thin side is suggested. We're vegetable steamer fans, but you can likewise boil in water directly for 2-5 minutes- the goal being tender but still slightly more on the fresh-green and firm side.

Drain the veg, rinse and drain in cold water. Remove any tougher lower parts of the veg. Store in fridge.

Prepare dressing and pour it on the veg right before you serve.
Back to top ⤴
Carrot & Orange Salads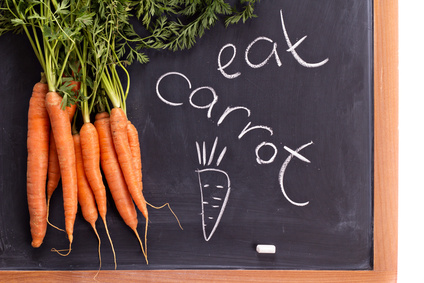 Ingredients
2-3 oranges, chopped or thinly sliced

3-5 large shredded carrots (or just use a vegetable peeler)

2 tablespoons light or dark raisins &/or dried cranberries

1 tablespoon lemon juice

~1 tablespoon sugar (depending on taste preference)
*Want to experiment? Here's some optional additions…
Morrocan style:
Add 1/2 teas. cinnamon + 1/2 teas. cumin + 2 T olive oil + minced fresh coriander or mint leaves + dashes of salt & black pepper.
More variations:
Use a bit of honey instead of sugar in the above base recipe.
Add some cinnamon and fresh grated (or powdered) ginger root.
Add some crushed pistachio nuts or almonds.
Maybe a touch of apple cider vinegar and oil, etc…
A little pomegranate, kiwi, and/or apple addition...
Peanuts or pistachios or almonds….
Back to top ⤴
Coconut-Fruit Bars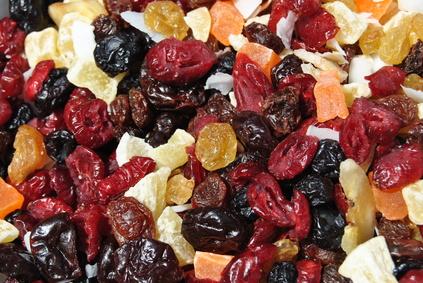 Ingredients
1/2 cup flaked coconut
1/2 cup chopped assorted dried fruit (choices up to you)
2 cups crispy rice cereal
1 teaspoon vanilla extract
1/2 cup butter
1/2 cup loose-packed brown sugar
1 beaten egg
Directions
Melt butter in a large skillet over low heat. Add egg and sugar and stir until mix simmers. Shut heat.
Add remaining ingredients and mix well. Let cool slightly for a couple minutes.
Lightly grease a 9"/22cm. pan.
Transfer mixture to pan and press it in firmly. Let cool, and then cut into little bars. Makes about 30-40 bars.
Back to top ⤴
Quick Fig Balls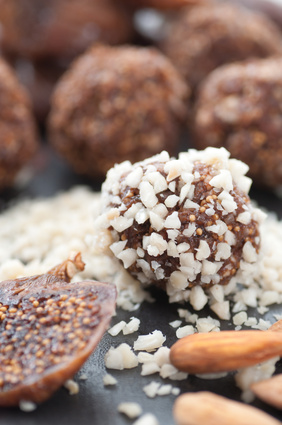 Ingredients
3/4 cup chopped dry figs
1/2 cup pecans or almonds
2 cups of a "flake" cereal (corn flakes, wheat flakes, "Special-K", etc. are all fine)
2 tablespoons melted butter (or margarine, though it's even less healthy due to trans-fats)
2 tablespoons honey or maple syrup
1 tablespoon or so of orange juice
1/2 teaspoon finely grated orange peel
~3 tablespoons or so powdered sugar or flaked coconut
Directions
Put all ingredients except for the powdered sugar into a food processor and run it until the mixture is finely chopped.
Shape into ~1"/2.5cm. balls and then roll them in the powdered sugar.
Makes about 15-20 total.
Back to top ⤴
Tznobar/Pine Nut Crunchies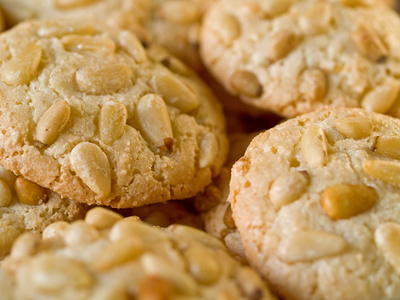 You can toast pine nuts same as sesame seeds- in a dry frying pan over medium heat, stirring or shaking them often. Continue this until they turn light gold.
Ingredients
3/4 cup flour
1 cup sugar
2 beaten eggs
2tablespoons melted butter
1 teaspoon vanilla or almond extract
3/4 cup toasted pine nuts
Optional- 1 teaspoon finely grated orange peel
Directions
Preheat oven to 350 F./175 C.
Mix together flour, sugar, eggs, butter and extract. Gently fold in pine nuts.
Grease and lightly flour baking sheets.
This is a "drop-cookie batter". Use a teaspoon to drop batter. Spaced about 4cm./2" apart.
Bake until golden at the edges. Depending on your oven, that usually takes about 8 minutes more or less. Makes about 30 or so cookies.
Back to top ⤴
Koby's Favorite Date Dessert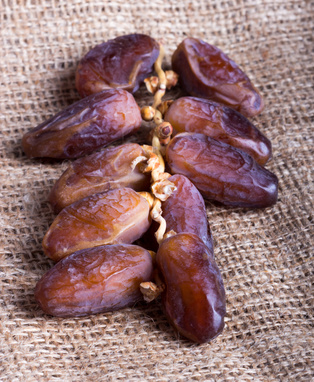 Koby is a very nice, bright kibbutz kid and this is his creation, so this is a good one that children can prepare.
Ingredients
Dates

Shelled almonds

Chocolate (dark works better)

Saucepan, water, glass bowl, wax paper.
Directions
Though not necessary, if you want blanched almonds, just boil some water and then turn off burner. Throw the almonds in for a minute. Then it's easy to rub off the "skin".

Remove the pits from each date and replace with an almond.

Place a bar of dark chocolate in a class bowl and zap that in the microwave for about 30 seconds to melt it.

Dip each date into the chocolate and place on waxed paper.

Of course you should test-taste for quality-control and to be absolutely certain it is fabulous before serving your guests.
Back to top ⤴
More Recipes...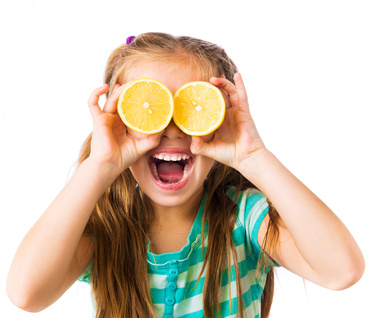 It's a fruity time, so besides what we offer below, here are links to more recipes on our site that are also appropriate right now: